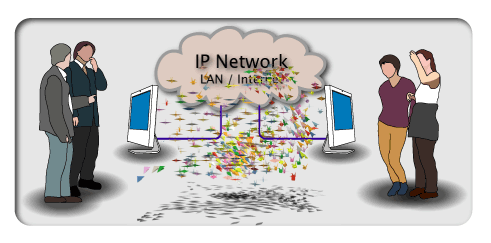 H ow do you think that messengers living in a virtual space play a music conducted by persons in both front and back sides? Or, how about asking the messengers to say him or her your words instead of talking by yourself?
T he personal computers connected through the internet are very useful tools to communicate with persons at any sites in the world. Starting from e-mails and net-news in 1980's, the communication tools have been evolving toward the instant messaging, web logs, social communication networks, IP phone, video chat, and so on. The Flocking Messengers is a challenge to open a new dimension of not only communication but also sociaties connecting a type of artificial life and our real life.
T his is an extension of Flocking Orchestra to be played using two machines connected via IP netwotk. You can enjoy this system as a communication tool between two machines connected through LAN and the Internet. The machines exchange captured images, sounds and some information through the network, and the image received from the other side is projected on the end wall of the virtual space. The sounds captured by the microphones are also transmitted to mix them with music the agents are playing at the opposite side. As the agents react against the motion of both sides, front and end, you can collaborate with a person at the oppsite side to conduct the agents, or can enjoy it as a game to gather the agents by competing with a person at the opposite side. If you turn on the mode to hear the agents' messages, you can ask the agents to say your words to the persons at the remote site. Each agent memorize your voice at your side and then speaks it with its own pitch when it reaches the opposite side.
T o connect two machines, invoke DT1 in both sites, set up one side as a server, and another one as a client. Input the IP address and the port number in the client side, then click the Connect button.
Authors
Department of Information Systems Science, Soka University.
System Reqiurements
OS: MacOS X 10.3.9 or 10.4.x
CPU: PowerPC G4/G5 or Intel. Faster than or equal to Dual G4 1GHz, G5 2GHz, and Intel Core Duo 1.66GHz are recommended.
Memory: 256MB
Network: The faster the better, but 100Base-TX, FireWire 400, AirMac Extreme are enough. However, 10Base-T, slower AirMac, and crowded route of the internet might cause some trouble to keep smooth responces.
Camera: iSight
Download
Contact
unemi-dt1(at)iss(dot)soka.ac.jp