SBART 3.0 for Cocoa Home Page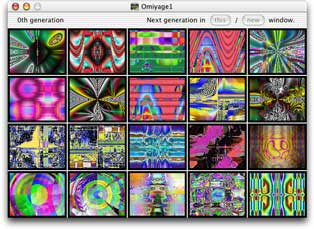 Powered by
MacOS X Cocoa Graphical User Interface,
QuickTimeTM Movie and Sounds,
and AltiVecTM parallel processing.

Japanese page is here.
SBART 3.0 α 25 for MacOS X Cocoa was released on Decemter 4, 2010.
SBArt 4.0 for MacOS X 10.6 was released!

SBART is a design support tool to create an interesting 2D CG image based on artificial selection, which was originally proposed as Artificial Evolution by Mr. Karl Sims.
Download the α version 25 , and try it! ... FREE as α test. Please inform me of any bug expericences and revision proposals via e-mail to unemi-sbart3@t.soka.ac.jp.
System requirment MacOS X 10.4 or 10.5 is required to run SBART 3.0. It utilises the parallel processing of both inner CPU vector processor and dual processor of PowerPC G4 and G5. It doesn't run on MacOS 9. For the Macs of Intel CPU, it requires MacOS X 10.4.8 or upper. MacOS X 10.6 is not fully supported yet.

New sample images were added.
---
sbeat3.2Jb1 Carbon was released on November 27, 2003. Let's breed music!
Here is an information on sbart 2.4 that runs on MacOS 8 and 9.
---
Updated on December 4, 2010
by Tatsuo Unemi (unemi@iss.soka.ac.jp).