SBArt4 Home Page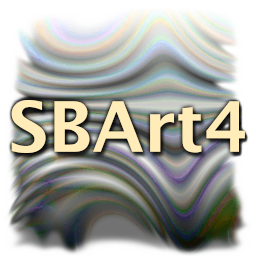 SBArt4 v4.8.4 for macOS was released on January 3, 2021.
SBART developed by Tatsuo Unemi is a design support tool to create an interesting 2D CG image based on artificial selection, which was originally proposed as Artificial Evolution by Mr. Karl Sims.
Version 4 is a full revision of the previous version 3, that takes advantage of graphic processor unit by compiling each genotype into a program of GLSL, OpenGL shading language. This innovation enabled breeding of abstract movies in realtime.
---
Download | System requirment | Publication | Working with Quartz Composer | Working with Final Cut Pro/Express Extra project Phylogeny | Extra project Breeding on Site | SBArt4 the Daily Movies| Daily Animation on WebGL| Daily Animation Viewer| Selections #1. Click here to download. From this version, the software has no expiration date. Click here to download the version 3.17 runnable on OS X 10.6. This version is valid until 2031. Previous versions, 4.8.3 is here, 4.8.2 is here, 4.8.1 is here, 4.8 is here, and 3.16 is here.
This is a type of freeware. You can use it freely. It used to be a shareware that is required registration to eliminate a functionality restriction, but we released it as a freeware from ver. 4.8.4. Intel 64bit CPU, and OS X 10.7 - 10.11 or macOS 10.12 - 10.15 are required to run SBArt4. It does not run on the machines older than 2009 equipped with Intel GMA graphics processor.
The latest version doesn't run on 10.6 Snow Leopard any more. Please use v3.17 if you'd like to try this software on OS X 10.6. You can export your bred gene to a built-in patch named Core Image Filter of Quartz Composer, a powerful graphical programing environment for visual effects in MacOS X, by copying the compiled code of genotype to the clipboard and pasting it to the settings in the patch's inspector. You can use it to make your own screen saver. The disk image downloadable from the above link includes sample composition files. You can export your bred gene to the video effects Plug-Ins for Apple's video-authoring softwares, Final Cut Pro and Final Cut Express. Please click here for detail on SBArt4 FxPlugs.
Contact
E-Mail: unemi-sbart(at)iss(dot)soka(dot)ac(dot)jp Return back to sbart home page.
---